MAJELIS TAKLIM SEBAGAI SARANA PENDIDIKAN ISLAM BAGI MUALLAF (Kegiatan Keagamaan Muallaf Di Kelurahan Jahab Kecamatan Tenggarong)
Keywords:
The Assembly of Taklim, Islamic Education, Religious Activity of Muallaf
Abstract
Religion as a guide for life for humans has provided clues about various aspects of life, including mentoring or developing a healthy spiritual mentality. Muallaf as a term for someone newly converted to Islam, still weak in faith, whose knowledge of Islam is still lacking, is deemed necessary to obtain coaching. Assembly taklim is indispensable to add to the knowledge and beliefs of Islam for Muallaf, which will encourage understanding of Islamic teachings for them. This paper is the result of observations made on several majelis taklim in Jahab Village, Tenggarong Sub-district, which has been a means of education to study Islam for the people of Muallaf. Exposure is done descriptively to provide an overview of Islamic
religious development activities carried out in majelis taklim.
References
Alawiyah, Tutty. Strategi Dakwah di Lingkungan Majlis Ta'lim. Bandung: Mizan, 1997.
Arifin, Muzayyin. Filsafat Pendidikan Islam. Jakarta: PT. Bumi Aksara, 2005.
Ar Rifai, Ahmad. Ilmu Pendidikan Islam. Yogyakarta: Aura Pustaka, 2013.
Departemen Agama Republik Indonesia. Al-Quran Dan Terjemahnya. Semarang: PT. Kumudasmoro, 1994.
Departemen Pendidikan dan kebudayaan. Kamus besar Bahasa Indinesia pusat Bahasa. Jakarta: PT. Gramedia Pustaka Utama, 2008.
Gunawan, Panji. Kamus Lengkap Bahasa Indonesia. Surabaya: Pustaka Gama, 2015.
Muhaimin. Paradigma Pendidikan Islam. Bandung: Remaja Rosdakarya, 2002.
---------------. Konstruksi Pendidikan Islam. Jakarta: PT. Raja Grafindo Persada, 2009.
Muhsin MK. Manajemen Majelis Taklim. Jakarta: Pustaka Intermasa, 2009.
Nata, Abudin. Ilmu Pendidikan Islam. Jakarta: Kencana Prenada Media Group, 2010.
Ramayulis. Ilmu Pendidikan Islam. Jakarta: Kalam Mulia, 2006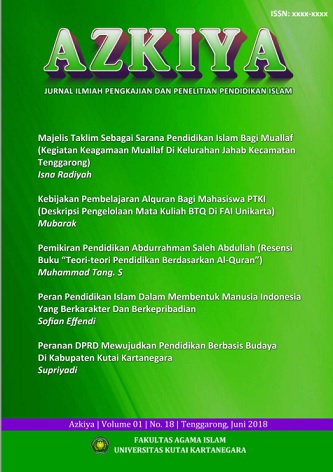 Downloads