ANALISIS USAHATANI SELADA SISTEM HIDROPONIK DENGAN SISTEM NFTDI KECAMATAN TENGGARONG SEBERANG
Abstract
            Hydroponics, also known as soilless culture, is one of the most popular cultivation methods, not only as a fun hobby but also a promising business. Hydroponics is generally used to cultivate vegetables with a short harvest time one of which is lettuce.  Currently in Kutai Kartanegara regency, especially in Tenggarong subdistrict, there are several farmhand farms that have been using cultivation technique of lettuce with hydroponics system.
The purpose of this study is to determine the ratio of profit on each business with hydroponic system. Then this research also aims to know Break Even Point based on production unit and selling price. Then this research is also intended to know the level of R/C Ratio on the business.
The results of this study show that the profit obtained by hydroponic lettuce farmhand with NFT system is Rp. 3.923.025. Lettuce Farmhand Hydroponics NFT System has a break even (BEP) of production on the number of 183 bundles. The R/C Ratio calculation on the NFT hydroponic lettuce system is 2,88. This indicates that the farmhand is in favorable condition and feasible to continue cultivated.
Keywords        : Farmhand, Lettuce, Hydroponics
References
Ahman, E. 2007. Membina Kompetensi Ekonomi. Grafindo Media Pratama. Bandung.
Boediono. 2002. Sinopsis Pengantar Ilmu Ekonomi No.1 Ekonomi Mikro. BPPEE. Yogyakarta.
Ibrahim, Yacob. 2003. Studi Kelayakan Bisnis. Edisi Revisi. Roneka Sipta. Jakarta.
Karsono, S, W. Sudarmadjo dan Y. Sutiyoso. 2002. Hidroponik Skala Rumah Tangga. Agromedia Pustaka. Jakarta.
Kasiram, M . 2008. Metode Penelitian Kuantitatif-Kualitatif. Malang.
Manulang. 2005. Pengantar Manajemen Keuangan. Andi. Yogyakarta
Munawir, S. 2004. Analisis Laporan Keuangan. Liberty. Yogyakarta.
Riduwan dan Akdon. 2006. Rumus dan Data Aplikasi Statistik. Alfabeta. Bandung.
Soedarsono. 2004. Statistika Untuk Penelitian. Alfabera. Bandung
Soekartawi. 2003. Teori Ekonomi Produksi. Raja Grafindo Persada. Jakarta.
Supari, D . H. 2001. Manajeman produksi dan Operasional Agribisnis Hortikultura. Kelompok Gramedia Jakarta.
Sutariyah. 2006. Ilmu Usahatani. Penebar Swadaya. Jakarta.
Syafiera, Evy. 2014. Hidroponik Praktis. Trubus Swadaya. Jakarta.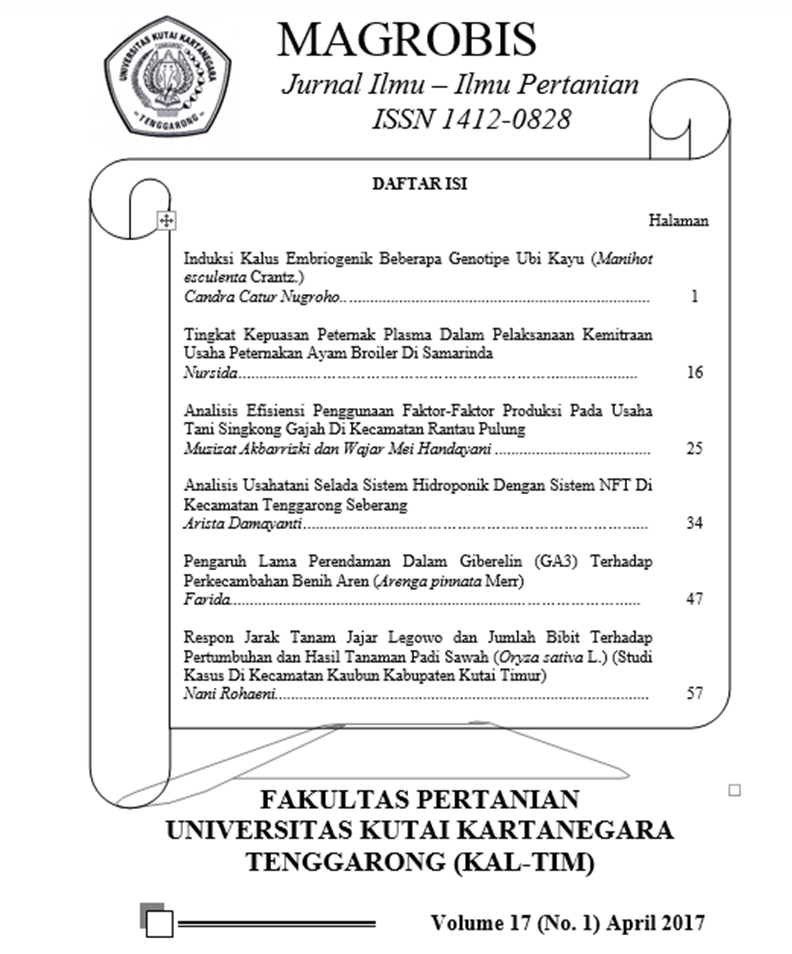 Downloads