TINGKAT KEPUASAN PETERNAK PLASMA DALAM PELAKSANAAN KEMITRAAN USAHA PETERNAKAN AYAM BROILER DI SAMARINDA
Abstract
This study aimed to analyzing attributes from service quality dimention of Tanggible, Emphaty, Responsiveness, Reliability and Assurance in giving satisfaction to the breeder. The time of research is 2016 with the total respondent is 27 plasma breeders The company's determination and respondent number had done purposively.  Data analysis is by using IPA (Importance Performance Analysis) method and CSI (costumer Satisfaction Indeks). This study result had is satisfaction indeks of plasma breeder on attributes from service quality dimensions TERRA is 0,73 by tangible dimensions, Emphaty is 0,56, Responsiveness is 0,70,  plasma breeder satisfaction by realiability and assurance dimention is 0,63.    Generally, are showing sufficient level of satisfaction with the satisfaction value is 0,65.
Keywords       : Satisfaction Levels, Plasma Breeder, Business Partnership, Broiler
 Chicken, Samarinda
References
Alma B., 2004, Manajemen Pemasaran dan Pemasaran Jasa Edisi Revisi, Alfabeta, Bandung
Badan Pusat Statistik (BPS) Kota Samarinda. 2013. Samarinda Dalam Angka. Katalog BPS : 1102001.6472, Samarinda.
Palmarudi dan K. Kasim. 2012. Analisis Tingkat Kepuasan Peternak Dalam Pelaksanaan Kemitraan Usaha Peternakan Ayam Ras Pedaging Di Sulawesi Selatan : Studi Kasus Di Kabupaten Maros, JITP Vol. 2 No.1, hal : 50-59.
Rangkuti, F. 2003. Riset Pemasaran. Gramedia Pustaka Utama, Jakarta.
Salam T., Muis M., dan Rumengan A. E. N., 2006. Analisis Finansial Usaha Peternakan Ayam Broiler Pola Kemitraan. Jurnal Agrisistem, Juni 2006, Vol. 2 No. 1, ISSN 1858-4330, hal : 32-38.
Sugiyono, 2012. Statistika Untuk Penenlitian. Alfabeta, Bandung.
Susilorini T.E., Sawitri M.E., dan Muharlien. 2007. Budidaya 22 Ternak Potensial. Penebar Swadaya, Jakarta.
Umar, H. 2005. Riset Pemasaran dan Perilaku Konsumen. PT. Gramedia Pustaka Utama Bekerjasama dengan Jakarta Business Research Center, Jakarta.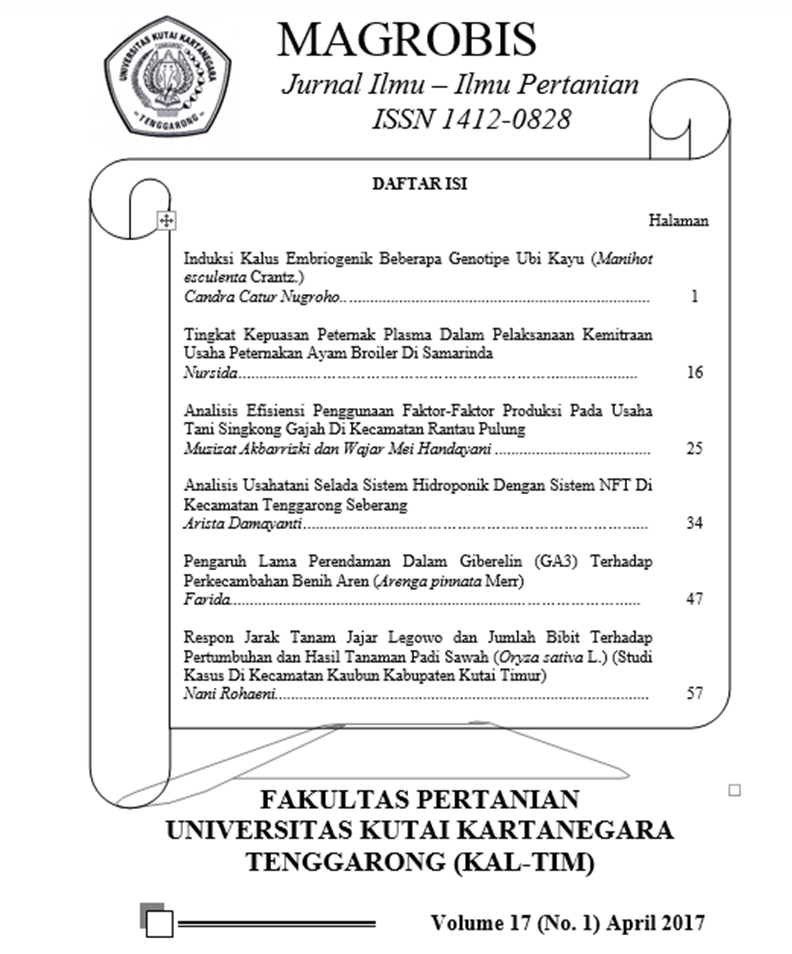 Downloads