Dampak Pasar Malam Terhadap Tataniaga Hasil Pertanian Di Kecamatan Tenggarong
Abstract
The objective of the research was to find out pasar malam impact to farming yield at Tenggarong district, by marketing chains, margins and distribution margins from the farming yield.  Focus these farming yield was spinach, kale, water spinach, mustard and chili.
Marketing chains of these farming yield through short chains marketing of nine percents, ninety percents through medium chains and one percents through long chains. Average margins of spinachs was Rp. 1.069,91,- water spinach Rp. 552,46,- kale Rp. 1.856,34,- mustard Rp. 3.099,57 and chili Rp. 19.548,88,-.  Composition of  margin distribution is marketing cost 74,63% and 25,36% profits.
 Key words: pasar malam, farming yield marketing and marketing chains
References
Rahim dan Retno, D. 2005. SistemManajemen Agribisnis. State University of Makassar Press.Makasar.
Soekartawi. 2002. Prinsip Dasar Manajemen Pemasaran Hasil-Hasil Pertanian (Teori dan Aplikasi). Raja Grafindo Persada. Jakarta.
Soetriono, Anik dan Rijanto. 2006. Pengantar Ilmu Pertanian. Bayumedia publishing. Malang.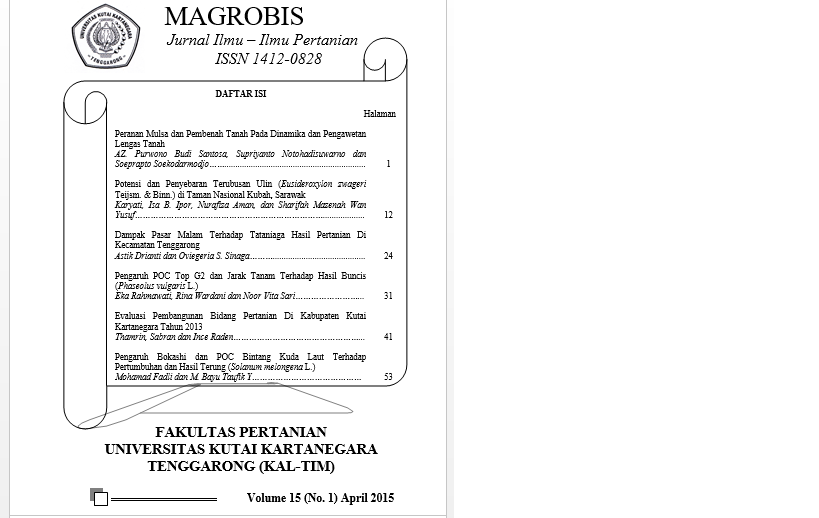 Downloads