KAJIAN GEOLOGI TEKNIK PADA RENCANA PEMBUATAN TUNNEL TAMBANG BAWAH TANAH
Abstract
Geological engineering study aimed at knowing the Physical and Mechanical
Properties of the rock.In the implementation of research activities in the field
have been conducted Taking a sample which is then tested in the laboratory,
which is selected based on the representation of the drill hole. Tests performed
included moisture content test, test the specific gravity, Comprasion Unixial test,
shear strength test, Pull strength test. Laboratory testing of samples taken from
the Geotek 3 drill holes carried out in the Laboratory of Geomechanics and
mining equipment Faculty of Mining and Petroleum Engineering ITB Bandung.
Be Based results hereafter devised Design Study Geotechnical Hole Aperture As
the main entrance (main roadway) with Dimensions (width 5 m; height 2.5 m) by
using software Phase2. Dimensional aperture hole is adjusted to the
specifications of the tool unit (road header). Dimensions of openings are made as
efficient as possible, the larger dimensions of openings, the greater the
deformation of rocks that occur and the smaller the safety factor The whole
dimensional aperture hole 4 Level include Level 1, Level 2, Level 3, Level 4, each
level is 30m by using rigid steel arch support. Estimates of rock debris at the
openings will be calculated to determine the model and the value of FK openings.
Keywords : Geomekanika,main roadway,rigid steel arch,Tunnel.
Downloads
Download data is not yet available.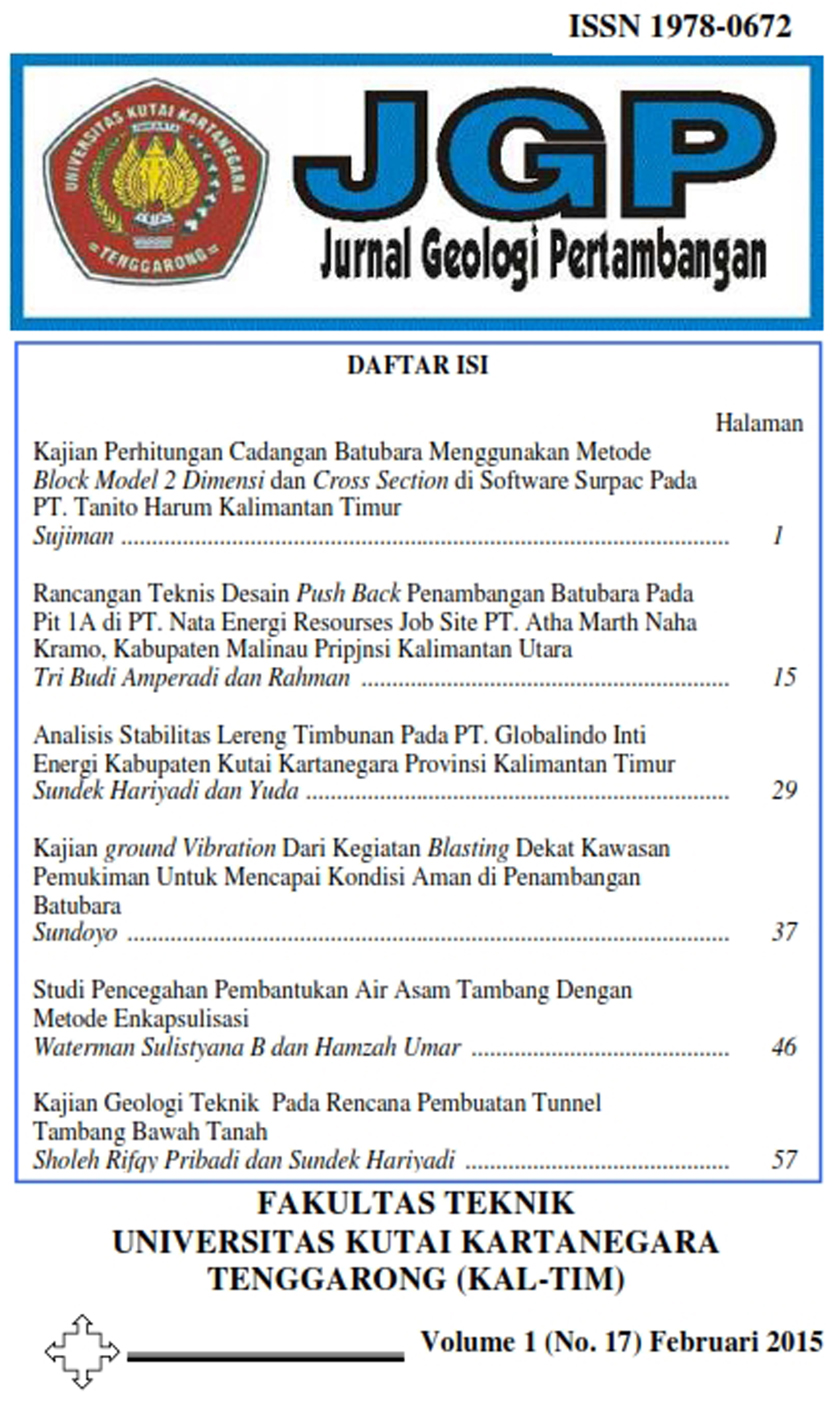 Downloads
Section
Jurnal Geologi Pertambangan