KAJIAN TEKNIS ALAT BOR DALAM PEMBUATAN LUBANG LEDAK PADA AKTIFITAS PELEDAKAN PT. HPU (HARMONI PANCA UTAMA) KABUPATEN KUTAI KARTANEGARA PROVINSI KALIMANTAN TIMUR
Abstract
The purpose of doing this research activity is to assess technically making holes for blasting explosive on drilling activities are effective and efficient in PT. Harmoni Panca Utama in order to know the pattern of drilling, blasting drilling knowing the stages of work, know the production and efficiency of the performance of the drill.
The problem found during research, reviewing work production drilling tool. Primary data collection phase is performed directly in the field such as : cycle time drill, similar volume, average drilling speed, productivity and efficiency.
Based on the results of research on the moon of February it can be concluded that : drilling pattern used by PT. HPU is Staggered rectangular drill pattern derived from the rectangular pattern. Blasting drilling phases of work include : drill site preparation, preparation of drilling, drilling activities. The evaluation component of the current production includes average speed per hour drilling Atlas Copco DM 45 the ability of the 7 holes / hour, with Atlas Copco DM 45 49,52 %, similar volume Atlas Copco drilling tool DM 45 at 61.24 m3/m. productivity drilling holes manufacture explosive on the location of the observation amounted 2.398,73 m3/hour. Production drilling for blasting 494.620,10 m3/month where the number does not reach the target production in the month of February the drilling of 600.000 BCM for or still less 105.379,9 m3 , with a 82 % success rate percentage. Improvement efforts, based on the results of the evaluation in the month of February production drilling time by pressing circulation drilling tool DM 45, before improved drilling speed was 0.98 m/min, after improved drilling speed of 1 m/min. with drilling efficiency Atlas Copco DM 45 49.52 %. Able to reduce cycle increase of 2 %.
Downloads
Download data is not yet available.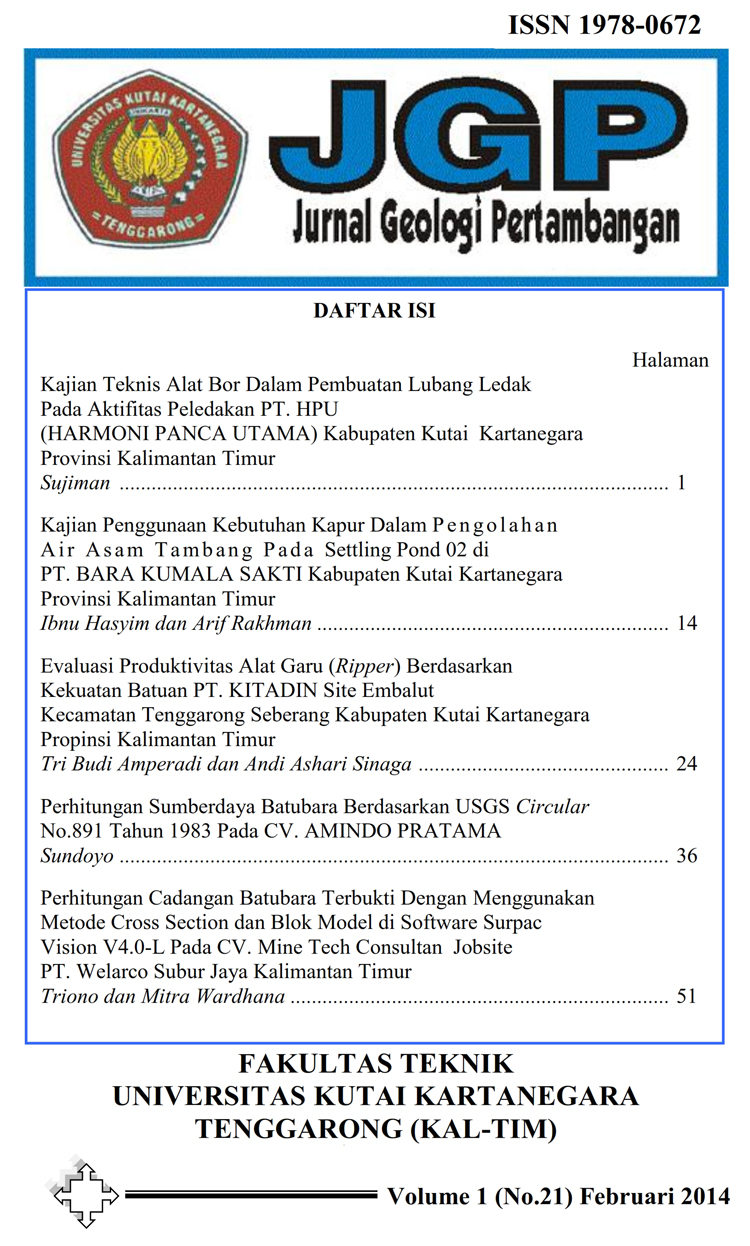 Downloads
Section
Jurnal Geologi Pertambangan