PEMANFAATAN BAHAN AJAR LEMBAR KERJA SISWA (LKS) UNTUK MENINGKATKAN EFEKTIFITAS PEMBELAJARAN BAHASA INDONESIA KELAS IX SMP NEGERI 5 TENGGARONG
Abstract
The using of teaching material such as student's work sheet (LKS) especially for Bahasa Indonesia subject in SMP Negeri 5 Tenggarong is obligated for each students. LKS teaching material which is used in SMP Negeri 5
Tenggarong is based on curriculum of KTSP 2009. One of the benefits of using LKS especially in teaching Bahasa Indonesia subject is to help teacher in daily teaching to achieve optimal learning result. The effectiveness of using LKS in
study Bahasa Indonesia subject of the ninth grade students of SMP Negeri 5 Tenggarong because it has fulfilled and has applied the characteristics in study effectiveness, for examples: (a) the mastery of materials studied, the materials to
be accepted by the students must suitable with the mastery level of the students, not giving materials which are difficult to be accepted and digested by students. By using LKS it is easier for students in mastering the materials; (b) students feel
happy in learning process, teacher can create interesting and joyful atmosphere in teaching learning activities; (c) students become happy toward their school, with good value in learning, the love toward the school will grow; (d) students
become obedient toward various existing roles in society; (e) to teach is to produce all wanted to be reached, using LKS teaching material as good as possible can get optimal learning result.
Keywords : Student's work sheet, study effectiveness, optimal learning result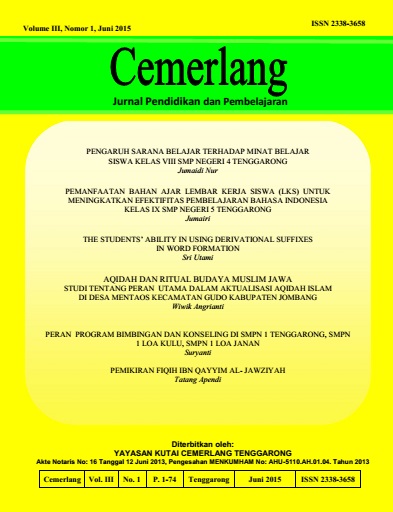 Downloads